Orchestre Révolutionnaire et Romantique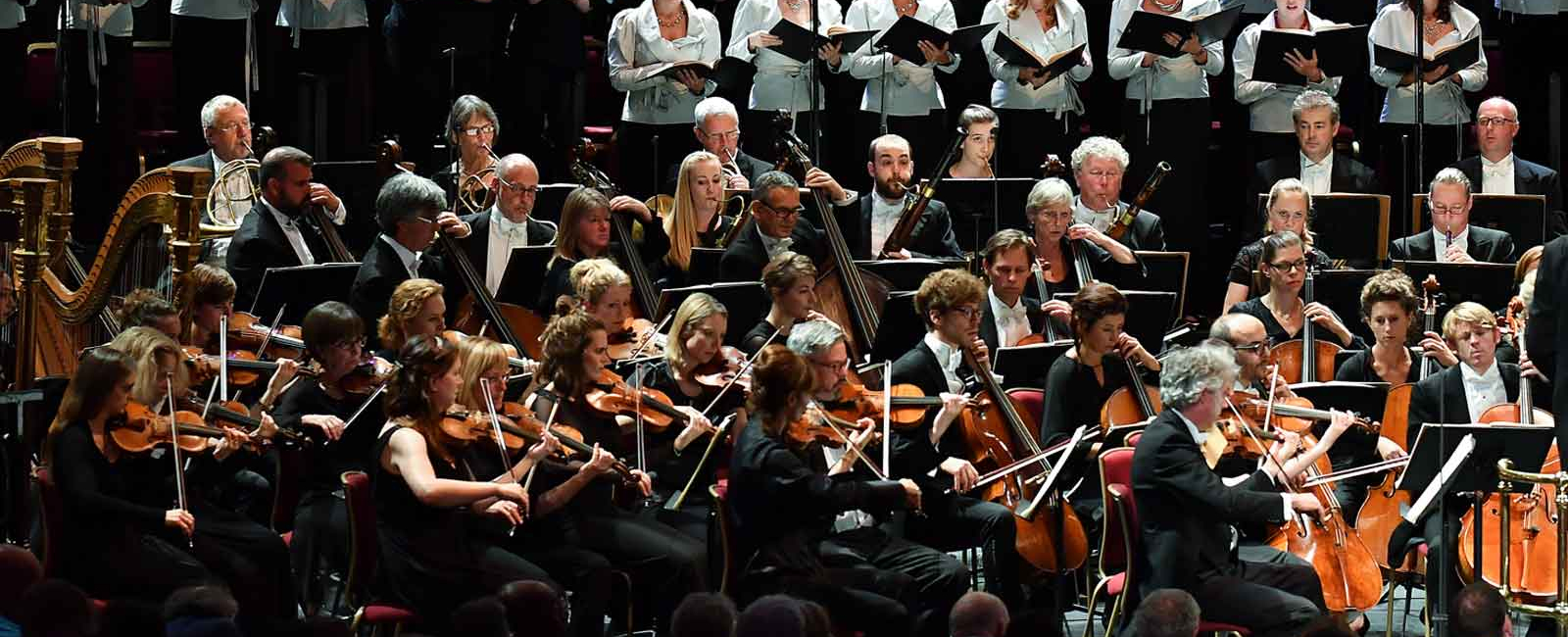 Founded in 1989 by Sir John Eliot Gardiner, the Orchestre Révolutionnaire et Romantique (ORR) strives to provide bold new perspectives on the music of the 19th and early 20th centuries through its stylistic fidelity and intensity of expression.
Leader - Peter Hanson
Since its inception the ORR has won plaudits for its interpretations of major early Romantic composers, from Berlioz to Beethoven, as well as later works by composers ranging from Verdi to Debussy. Major projects have included Beethoven symphony cycles, 'Schumann Revealed' and 'Brahms: Root and Memories', in which the ensemble recorded the complete symphonies of each respective composer. Additionally, the ORR has performed operas by Weber (Oberon and Le Freyschütz), Bizet (Carmen), Chabrier (L'Etoile), Verdi (Falstaff) and Debussy (Pelléas et Mélisande) in new productions in France, Italy and London, and gave the first complete staged performances in Paris of Berlioz's Les Troyens.
In 2021, the ORR made its return to live performing with a concert at the Festival Berlioz in the summer, as well as performances of Berlioz's sacred oratorio L'enfance du Christ alongside the Monteverdi Choir and John Eliot Gardiner. This included a critically acclaimed concert at its new London home, St Martin-in-the-Fields, in December.
The 2019/20 season marked 30 years since the founding of the ORR, as well as the 250th anniversary of the birth of Ludwig van Beethoven. In celebration of these twin milestones, the orchestra embarked on another momentous project, performing a cycle of all nine of the composer's symphonies in residencies across Europe and the United States. Before the COVID-19 pandemic brought this tour to a halt, the ORR gave critically-acclaimed performances of the Beethoven Symphony Cycle in Barcelona's Palau de la Música, New York's Carnegie Hall, and Chicago's Harris Theater.
In 2015 the ORR turned to the music of Berlioz for a five-year exploration of the composer's large-scale works, performing Roméo et Juliette, La damnation de Faust, Symphonie fantastique, Harold en Italie and Lélio across Europe and the United Sates. The project featured five consecutive appearances at London's BBC Proms, a highlight of which was performing excerpts of Les Troyens alongside star mezzo-soprano Joyce DiDonato. The celebrations culminated in 2019, marking the 150th anniversary of the composer's death with the first contemporary performances of his opera Benvenuto Cellini on period instruments. The orchestra was joined by the Monteverdi Choir and a cast of international soloists for a series of critically acclaimed staged concerts of the opera at the BBC Proms, Berliner Festspiele, Festival Berlioz and Château de Versailles.
The Orchestre Révolutionnaire et Romantique is under the patronage of HRH The Prince of Wales.